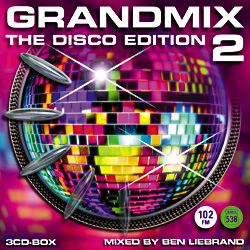 BACKGROUND INFO


One of the main reasons to get started in the first place making these grandmix disco editions, is to make up for the fact that the original series of Grandmixes never could be released on CD. Now with part 1 and 2 ready, these Grandmix Disco Editions hold practically all these tracks which where originally in that classics mix from 1985.
In the Grandmix Disco Edition 2 we dig even deeper in the archives of Disco. Focusing on the true dance floor classics and steering further away of the cheesy stuff. This mix holds also some suprising combinations. One of them resulting in a funky soulfull version of Level 42's Hot Water.
Many gems like "I specialize in Love" , Can't fake the feeling and Two tons O fun's "I got the feeling" are included in this mix. Two tons O fun are also known as the weather girls by the way.
A lot of effort has been put in trying to make each transision sound as natural as possible, often editing every single beat to get those tracks to match up precisely. Despite requesting over more than 200 titels, we just about gor a 100 cleared. Many tracks could simply be not traced back to the current owners of those tracks rights. Unfortunately this also meant that from certain planned combinations no longer where possible because one of the 2 neccesary tracks could not be obtained. However, this apparent set-back turned out advantageous as it forced me to come up with other, more suprising and sometimes even better combinations.
So, what happened next,
Based on the list with approved tracks the search starts for the missing digital masters. Again, Frans vd Kamp proved essential in tracking those missing tracks down. Further special thanks to Martin Boer, Gerben Baartman, Helen Willemse and Arjan Rietvink for helping me out with those masters
If despite all other efforts a track was unavailable on CD it was transferred from vinyl using a Stanton 681EEE mounted on an SL1200. Using a Studer phone pre-amp, the signal was recorded into the Alesis Masterlink and mastered on CD.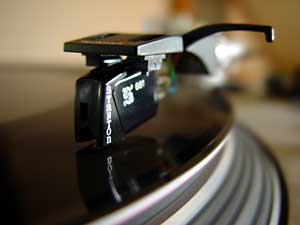 All tracks where then checked for their exact BPM using the built-in BPM counter in the Pioneer CDJ1000. The tracks were then entered in a database and sorted by tempo and key.
The Grandmix Disco Edition 2 was made using 2 pioneer CDJ1000's. These revolutionary new CD players with excellent Master Tempo are used to quickly try-out the best possible combinations and locations in the seperate tracks to make the perfect mix. All sections needed for a particular crossfade are pitched and recorded seperately into the Akai DD1500. Often the Master Tempo feature is used on just one of the 2 tracks in a crossfade, returning to "normal (non-pitch corrected) mode" immediately after the crossfade is completed.
CDJ1000 mulitimediacard merger
Merges all CD data of any number of mulitimediacards into one file which can be copied files for back-up and ofcourse be copied back to all your mulitimediacards in a matter of seconds.
Want to know more ? check this link!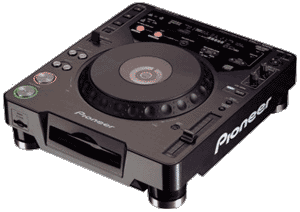 Pioneer CDJ1000
This DD1500 has momentarely a practically unlimited capacity due to several disk arrays holding SCSI discs. The DD1500 does not use any audio mp3 or other destructive data compression.


Most of the tracks are unprocessed. Only a few tracks are digitally EQ'd, in the DD1500 to give them a bit more punch in the low frequencies.

The mix is then mastered onto the Alesis Masterlink, where also the track id's were added. With it's 30 hours continuous recording time, the Alesis Masterlink is also ideal to broadcast the 3 hour continuous mix on Radio 538.




Alesis Masterlink ML9600